Water and subsurface as a basis for spatial planning
The Netherlands is a water-rich country built on soft soils. Climate change, major societal and economic transitions, such as the energy transition, are approaching us and require space. It is time to consider the long-term consequences of climate change, and to integrate these into transition pathways for spatial planning in the Netherlands. Therefore, we need to ask ourselves some major questions: do we still want to build in low-lying polders? Where can we reserve space for the draining and storage of water, for housing, nature, and agriculture? How do we organize the subsurface better, which functions do not combine well, and where can we combine functions? Water and subsurface need to become leading factors in spatial planning. This perspective, which takes the carrying capacity of the water and subsurface system as a starting point, has been adopted by the Dutch government in their coalition agreement.
Spatial planning 'on water basis'
Deltares has worked hard with partners to develop this sustainable perspective and successfully address it on the policy agenda. We have translated our knowledge base about the water system and the subsurface, which we have carefully built up in recent years, into interactive maps in the publication 'On Water Basis' (Op Waterbasis). In this essay, we provide insight into where and when bottlenecks occur and how we can anticipate climate change and facilitate systemic transitions through planning and design. We show that there is room in the Netherlands for a different perspective.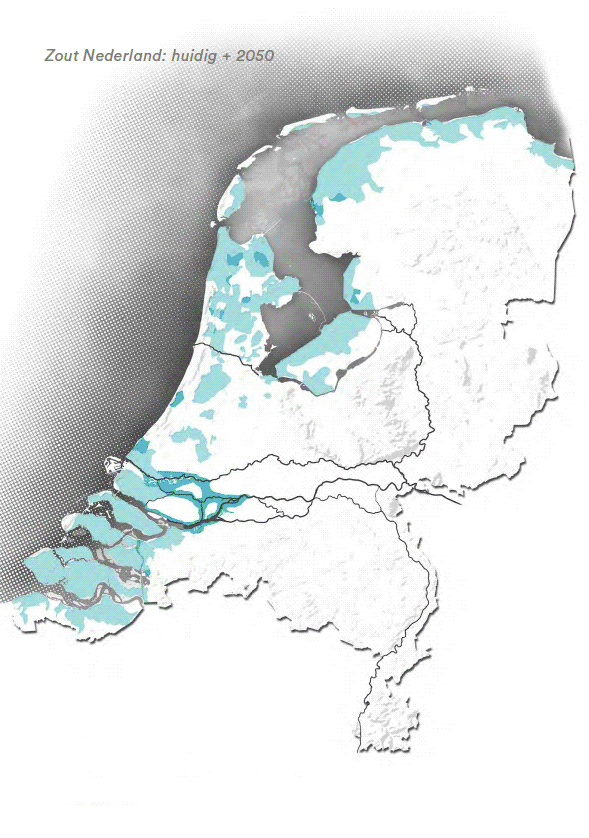 Our subsurface is already too soft for various uses, increasingly too wet or too dry, and in the long run too salty or dangerous. As a result, water and subsurface systems will no longer be able to provide the required ecosystem services, such as efficient food production or the basis for future-proof housing. A water-based spatial redesign can provide an answer to this. Lessons from the essay have been adopted by national government and from advice given by the Delta Program to the Delta Commissioner, on climate adaptation in relation to the extensive need for housing.
'Water-Based provides an accurate description of the boundaries and preconditions resulting from the soil and water system. It is important for us to have a clear picture in this respect so that water and the subsurface can guide the choices we make about spatial planning. In this way, we make sure that we follow a climate-robust approach every time we put a spade in the ground, preventing damage and problems for generations to come'
Peter Glas, Delta Commissioner

Realizing impact
Adopting the statement 'Water and subsurface as a leading principle in spatial planning', is a great start. How will we now realize this ambition? Together with the Delta Program and ministries, we are looking on a larger time- and spatial scale at spatial planning across the Netherlands. We are also translating knowledge into regional scale suitability maps (rural and urban area) and, together with regional authorities, looking at their use in regional policy processes.
In the Municipal Environmental Policy for Soil and Subsurface, Deltares worked together with regional authorities and municipalities to identify bottlenecks from the subsurface and (ground)water system, and how they can be addressed in their spatial planning policy. Difficult trade-offs will have to be made, because not all functions fit into the current space. Through cross-sectoral co-operation we can realize integrated solutions for societal challenges, taking into account the subsurface and water system.