Burrowing beaver causes flood risks
Burrowing animals are an increasing problem for dike integrity. Deltares developed a safety framework so that water authorities can take measures to manage the flood risks caused by burrowing.
The Rivierenland water authority wants a national beaver strategy, wrote the Dutch newspaper Trouw late last year. Burrowing by wild boars, badgers and rabbits, but particularly beavers, is inflicting increasing damage on water defences. 'The beaver had died out in the Netherlands but it was reintroduced in 1988 and our country now has a population of between 6,000 and 7,000,' is the sketch given by researcher Frans van den Berg of Deltares. 'Beavers start digging their tunnels in dikes below the waterline of the dike ditch, and dike managers often can't see that happening.' Water authorities are sounding the alarm and want to take measures to minimise the risk of flooding: burrowing can have a major impact on the strength and hydraulic resistance of a flood defence. Dike breaches have already been seen in Germany and Italy.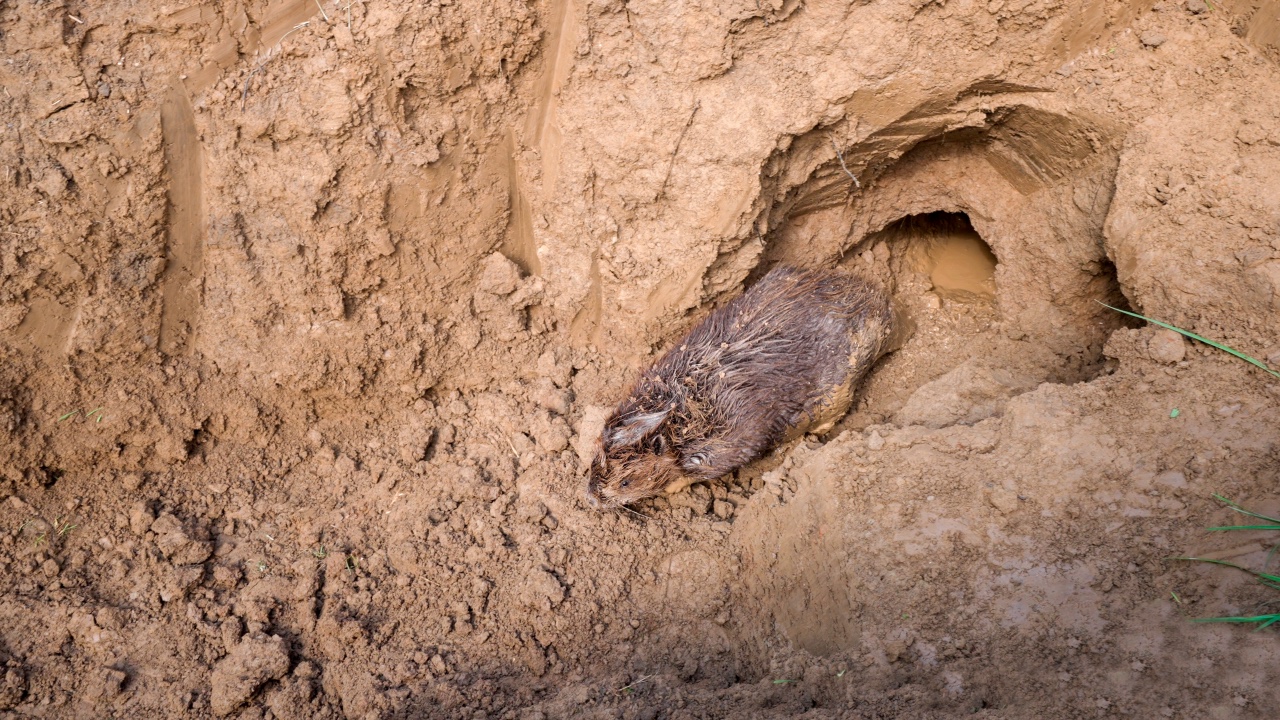 Beaver from excavated burrow in Hedel. Source: Rivierenland Water Board.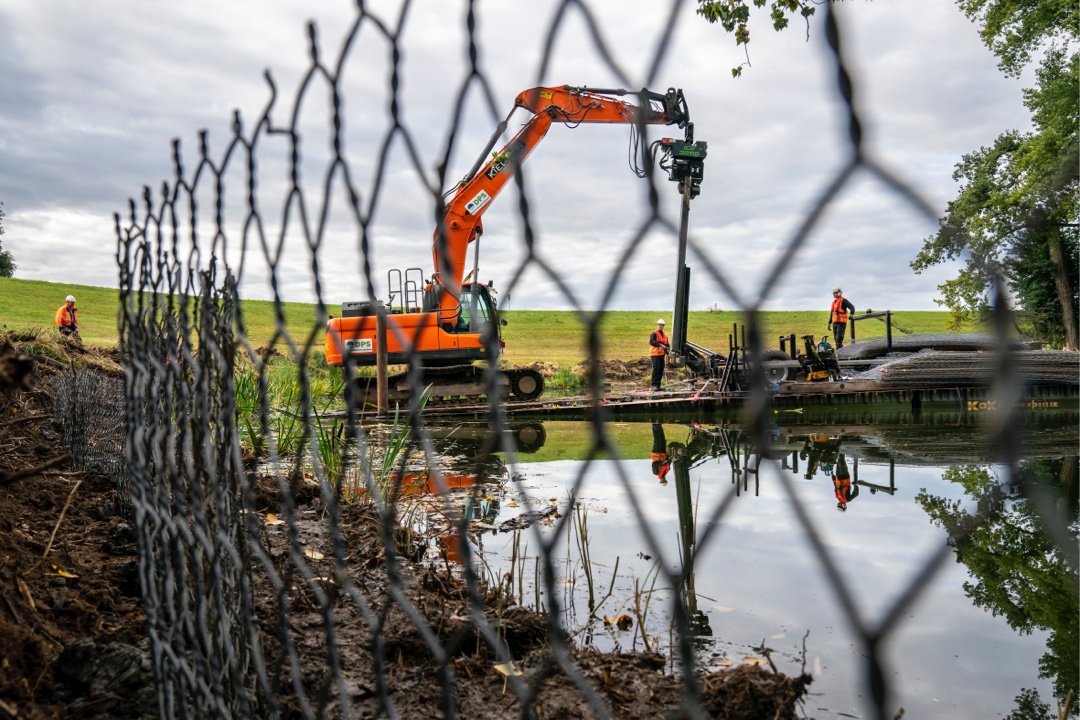 Insertion of beaver-resistant netting at a pool along a dike in Empel. Source: Water Board Aa and Maas
Safety framework
Deltares started a study of burrowing a few years ago and is looking at how the animals can compromise dike stability. The research resulted in a safety framework to manage flood risks caused by burrowing. The framework makes it possible to study and record which animals are causing what damage, what the detection and repair options are, and what measures can be taken to prevent the burrowing. The ultimate aim is to establish a uniform approach for all water authorities to describe the impact of animal burrowing on flood defences and the associated measures, and to state this in terms of flood probabilities to give dike managers a clear understanding of what needs to be done. Frans: 'You can put barriers in the dike itself, deposit stone in places where beavers will come, or modify a dike so that beavers don't find it as appealing.'
There is a roadmap the water authorities can use to conduct research themselves. 'They have a lot of locations affected by burrowing so it's impossible to take precautions everywhere,' explains Frans. 'You can identify the dikes where the flood risk is highest or lowest. You can then tackle the locations where the risk is highest first.'
"Beavers are territorial animals and, after two or three years, they force their young to settle in other areas"
Ronald Wolters, Policy Advisor at Aa and Maas
Aa en Maas Water Authority
Deltares will be testing the safety framework with the Aa en Maas water authority. The Flood Protection Programme is also involved with the aim of advancing its upgrade agenda (1,500 kilometres of flood defences between now and 2050). In this way, Deltares hopes to make this method available to all water managers. Frans does have one final comment to make. 'It is a good thing we have the beaver in our country, and it is a protected species. Working with zoologists, we will be studying beaver behaviour and how the animals respond to the measures we take. We have to learn to collaborate and live with the beaver.'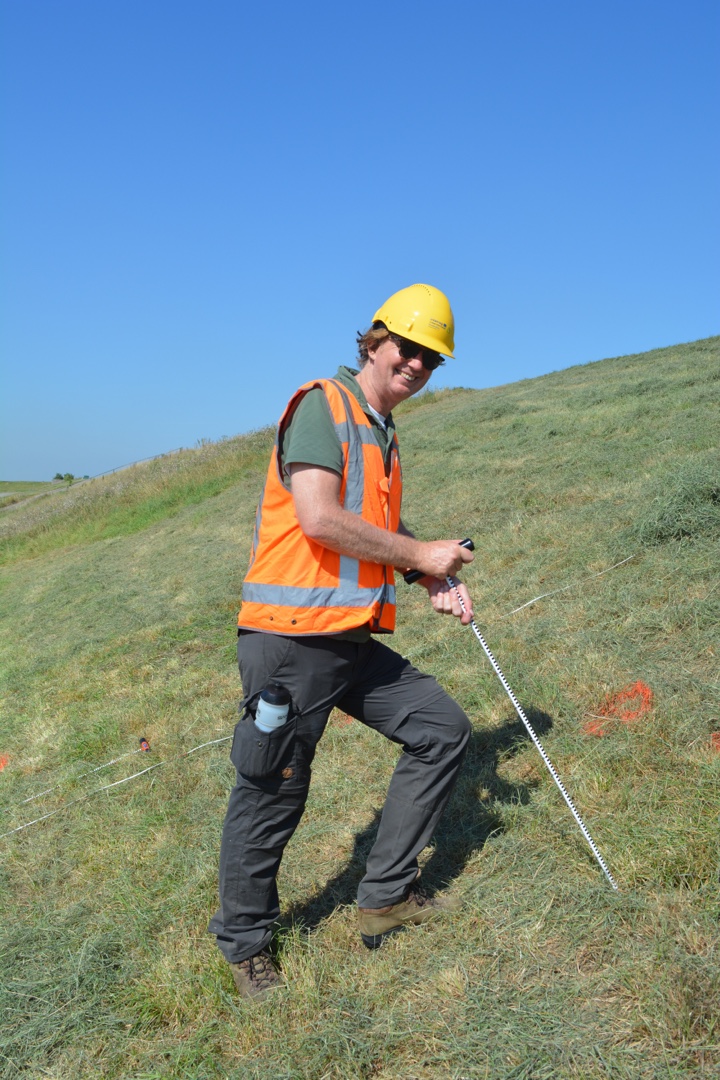 Deltares dike expert Frans van den Berg during burrowing research.