Artificial reefs for a thriving marine life
Across the world, climate change is destroying coral reef, a crucial marine habitat and natural protection against floods. Coastruction is designing, producing and installing 3D printed artificial reefs to help protect vulnerable coastlines. In this interview, founder Nadia Fani shares with us the results of their latest tests at Deltares' facilities.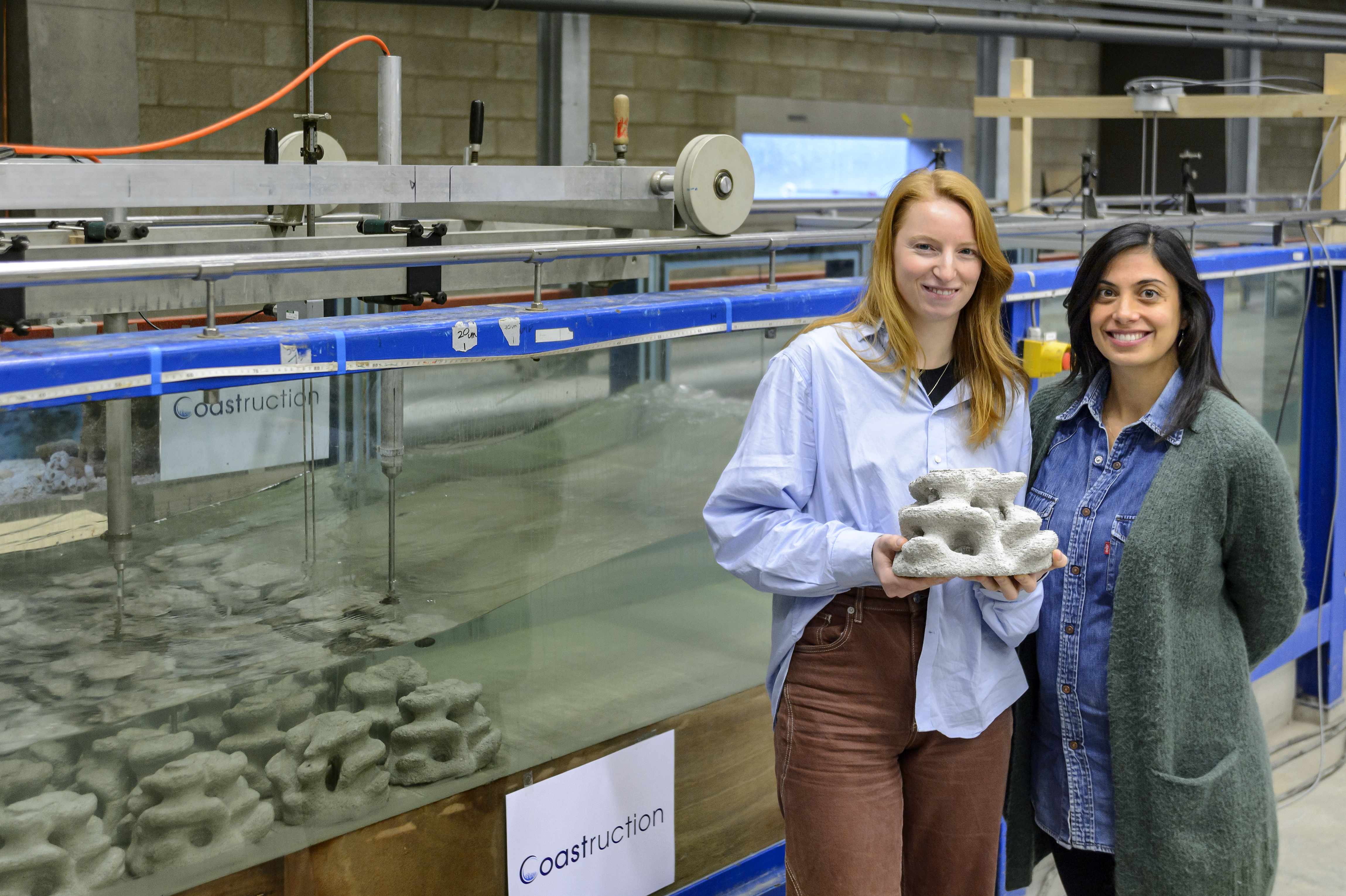 Florine and Nadia in front of the Scheldt flume. Florine (left) holds Coastruction's coastal reef being tested behind her.
What are some of the issues faced by coral reefs and what are their impact?
Underwater life is crucial for biodiversity, coastal protection, and economic activities relying on sea life. Climate change is causing the death of reefs as waters become warmer and more acidic. Coral reefs, occupying less than one percent of the ocean floor, support over 25% of all marine life. Losing marine life means losing a vast unseen world. Unlike terrestrial endangered species, like rhinoceros or tigers, we are less connected to marine life.
Reefs also have significant economic importance, providing food for coastal communities and attracting tourists. Beyond precious diversity loss, the destruction of reefs also diminishes coastal protection. Reefs act as natural flood defences, which is vital as climate change intensifies storm impacts. By building artificial reefs, we can help protect both coastal communities and essential bio ecosystems. We work not only on coastlines but also on rivers banks or harbour dams.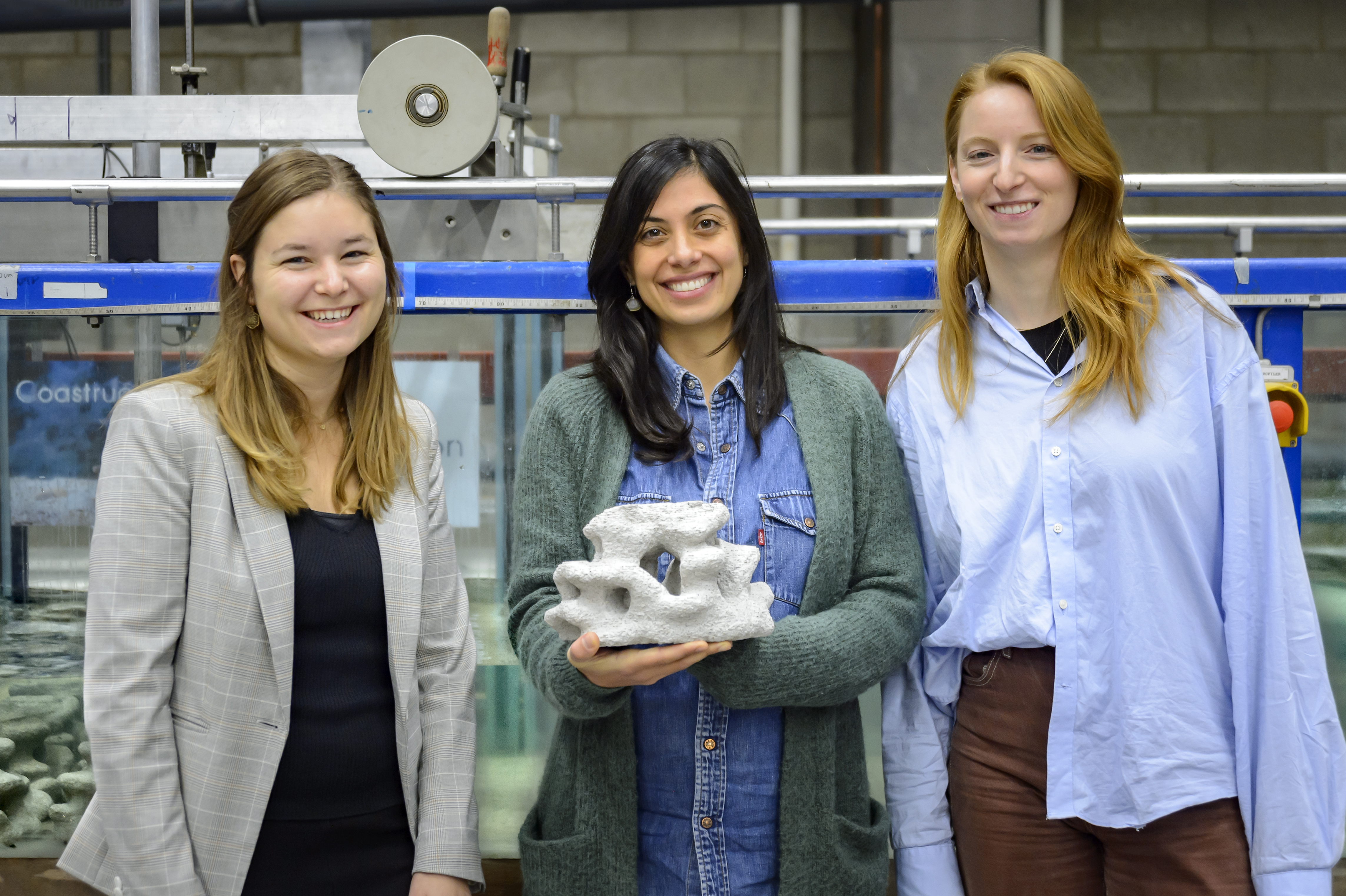 Nadia Fani
Nadia is the founder of Coastruction. She is the is the heart of the technological development and long term tech vision of the company. She has a degree in computer science and worked in different development positions for 3D printing companies. She led the production of the first large format concrete 3D printer and printed several large-scale artificial reefs worldwide.
What does Coastruction offer?
Artificial reefs offer marine life new habitats to thrive. While many companies use concrete due to its durability, affordability, and ease of production, it contributes to pollution and CO2 emissions, accounting for 4-8% of global emissions.
Our solution minimizes material usage and transportation emissions. We employ 3D printing, allowing us to create intricate, nature-inspired shapes tailored to different locations. Being portable, we print on-site, reducing the need to transport heavy structures across the globe, which could harm reefs further. Our process uses less cement and results in a porous surface.
Moreover, we prioritize sustainability. Our technology avoids high temperatures and chemical additives. We utilize seawater or local freshwater for 3D printing and can employ various types of cement, such as limestone or recycled concrete. Our aim is to create a circular production process, where unsatisfactory prints can be shredded and reused.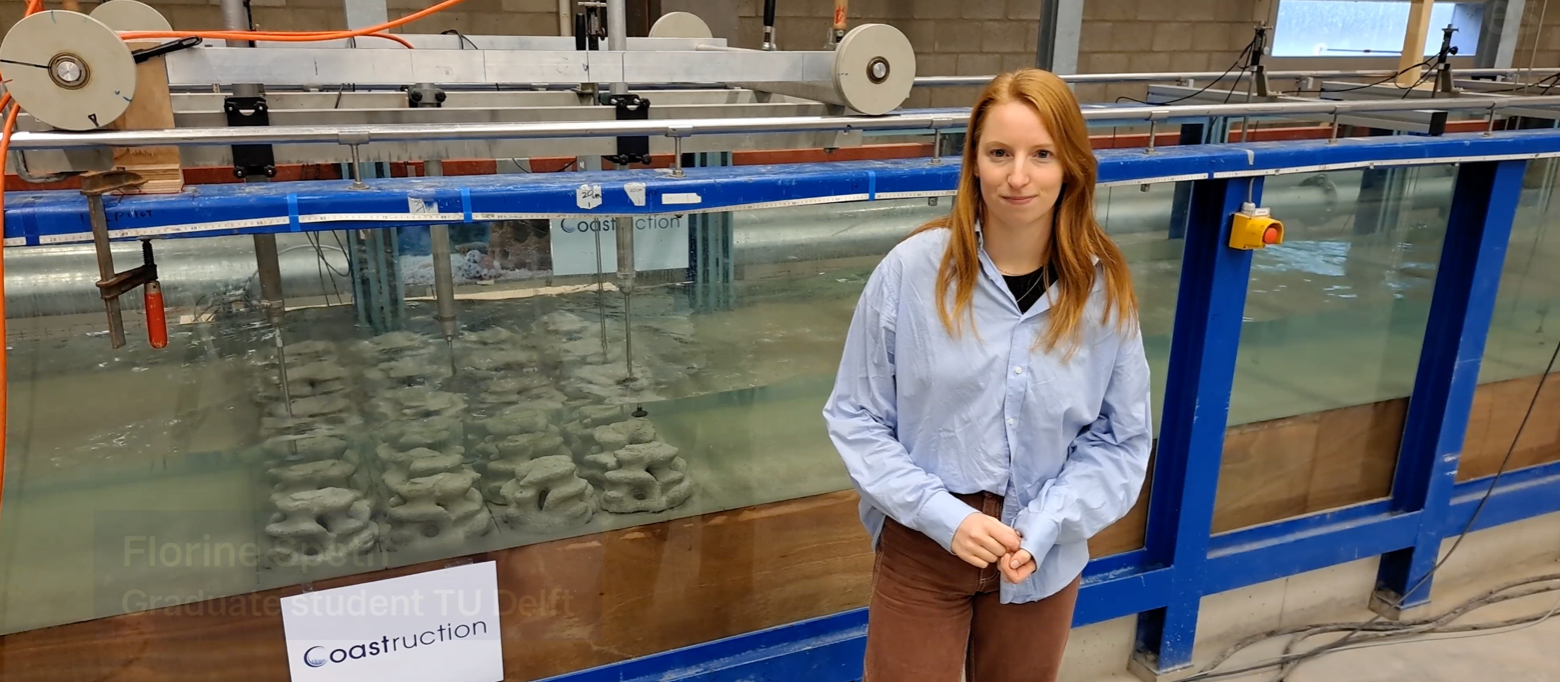 This video shows the artificial reef in action and explains the testing and the product.
How do you approach a restoration project?
Each of our designs is tailored to the specific characteristics of marine life, water flow, and desired reef behavior. Adapting to the environment is crucial, but the lack of centralized knowledge and information hinders this process, causing delays. Many countries impacted by reef degradation lack the resources for extensive monitoring, resulting in a lack of comprehensive data.
However, we maintain optimism. With our company's growth and diverse projects, we can accumulate valuable knowledge to enhance our production process and learn from both successes and failures.
Last March, we initiated a project in the Maldives, partnering with a local NGO and marine biologists.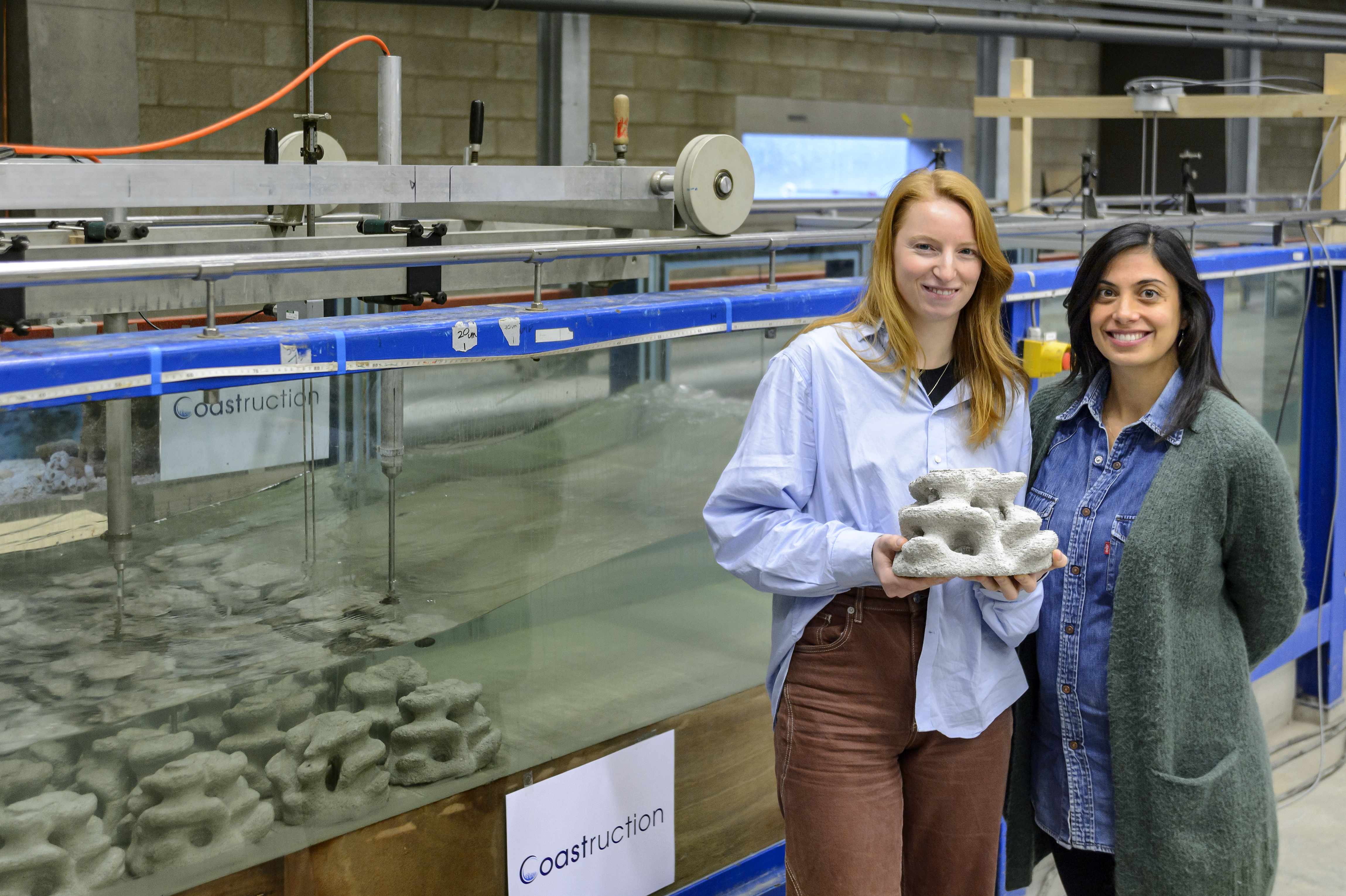 Florine Speth
For her MSc in Hydraulic Engineering at Delft University of Technology, Florine conducted her graduation thesis, titled "Physical Modeling of 3D-Printed Artificial Reefs with Complex Shapes in the Wave Flume" at Coastruction. She collaborated with Nadia on designing and conducting pioneering physical model tests using 3D-printed structures from Coastruction.
How do you cooperate with Deltares?
In November last year, we won a SME competition granting us free access to Deltares testing facilities. Our objective was to assess the transmission of complex structures. We compared traditional concrete cubes for coastal protection with our designs, featuring adaptability to water flow and marine life support through ledges, permeability, and porosity. Two design levels were prepared: one fully permeable and the other non-permeable but porous.
Under the same wave height conditions, we tested both structures for overtopping and erosion. Florine, a Master's student from TU Delft, focused her thesis on analyzing this test. Her findings showed that our technology is as effective as concrete cubes in wave prevention, see Figure 1, with the added benefits of fostering biodiversity and coral growth.
Currently, Florine is reviewing data from the second test for overtopping, which is showing promising results. We have now bigger printers, which allow us to print bigger structures. Deltares' team has been instrumental, providing extensive knowledge in hydrodynamics, waves, sediment transport, morphology, and ecology. They suggested expanding the tests, and we are eager to comply, and Deltares could enable us to test on bigger structures. Their guidance and expertise have been crucial to our development.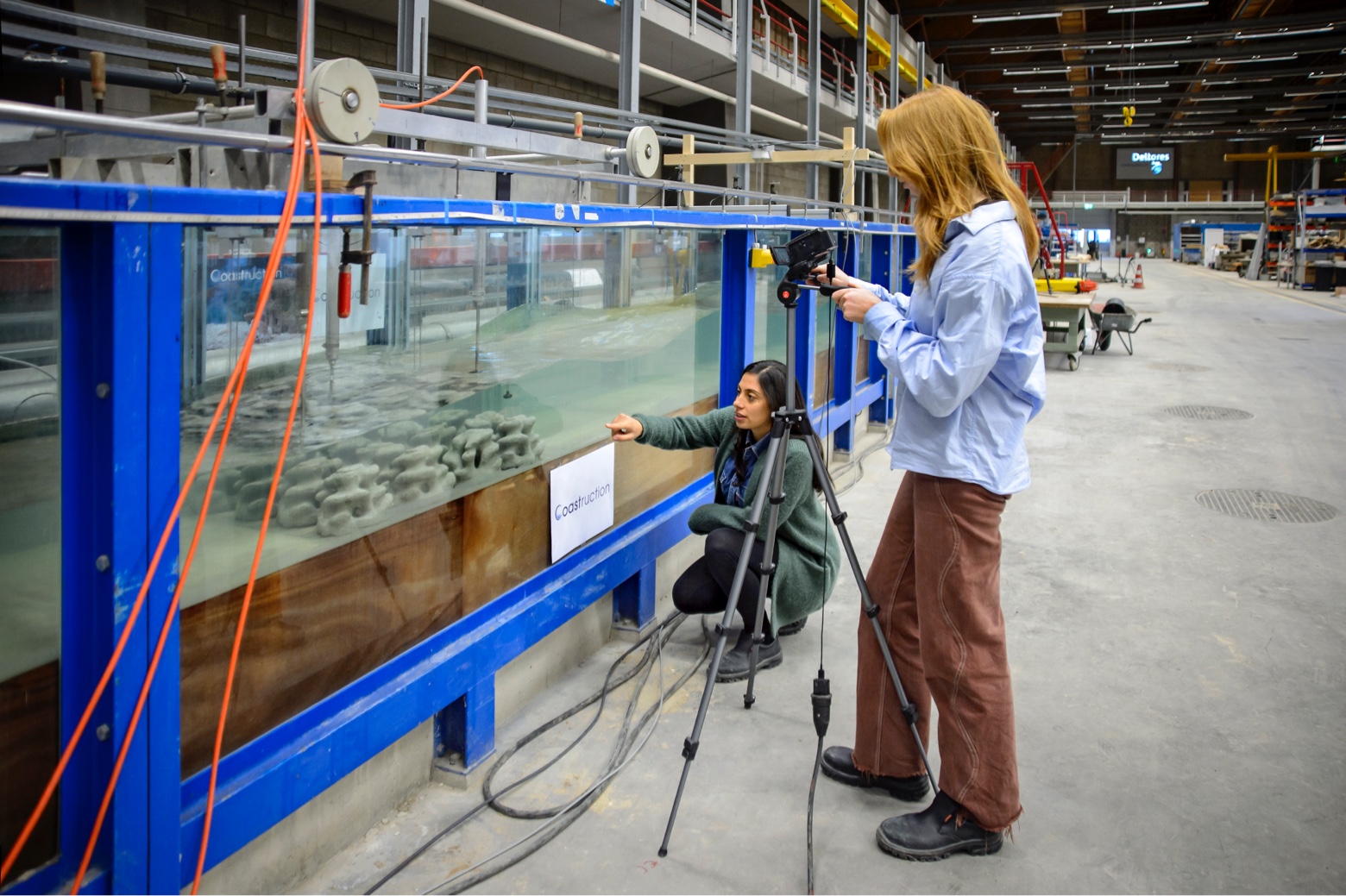 Images are taken during the trials to be analyzed later.
We are gearing up for an installation in Rotterdam in October this year. We also plan to test for wave transmission and breakwater function. Deltares suggested to conduct offshore installation tests as well. Our custom-made artificial reef offers a potential solution to safeguard offshore wind installations without disturbing marine life. It aids in recovering biodiversity post-wind farm installation, provides protection against disturbances, and improves wind farm stability.
As a start-up, we still seek funding and investment to support our growth. Additionally, we are eager to explore new pilot projects. If anyone is interested in testing our technology in various water locations, be it sea, lakes, or rivers, we would be thrilled to collaborate.