Shrinkage and swell in clay:
a growing problem
The effect of the shrinkage and swell of clay layers on steel foundations is causing more and more damage to houses and buildings. Deltares is studying the causes of this shrinkage and swelling. And that is where the knowledge of the residents comes in useful.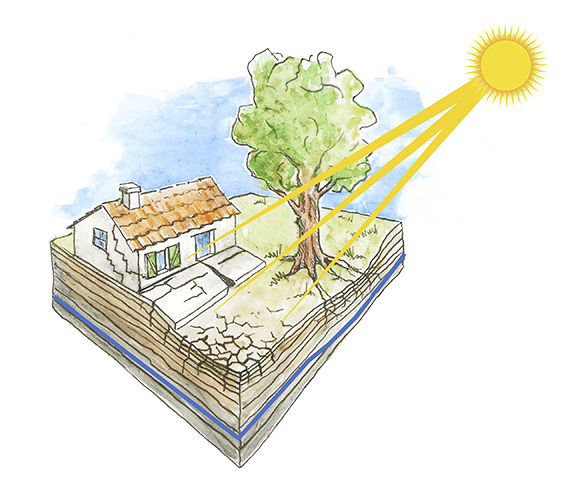 The dry weather in recent years has led to a large number of reports of damage to buildings in the Netherlands. This is a familiar problem with houses and buildings founded on wooden piles but the rise in damage to buildings without pile foundations is new. After the drought in 2018, dozens of houses in the municipality of Zevenaar were affected. The houses there were built directly on a layer of clay in the 1970s. That layer shrinks in the summer and swells again in the winter when the groundwater rises. Cracks appear in houses as a result.
Clay minerals
This is a growing problem because similar damage has been reported in Roden en Rekken. The bill can amount to tens of thousands of euros for one house or even make homes uninhabitable. Specific clay minerals cause shrinkage and swelling. The problem has been known for some time in other countries like France and England. Builders there take it into account during construction. But not a lot is known about this phenomenon in the Netherlands.
Which is why Deltares initiated a study to establish a picture of shrinkage and swelling. Which clays are susceptible? Where are these clays found? And what action can we take? Tests were carried out in the lab to quantify the behaviour of a range of clays.
Residents
In the meantime, contacts have been established with residents to look for solutions together. Deltares was approached six months ago by a resident of a farm in Rekken in the Achterhoek area. He was very involved and he had worked for years in a lab at Twente University of Technology. He had read articles supplied by Deltares about shrinkage and swell in Australia, where a solution was used that involves positioning a zone of plastic around the house so that the soil moisture did not evaporate and the clay stayed moist. This solution was used at the farm, and the residents and Deltares are monitoring the situation to see whether the approach works.
Did you know that…
..Deltares in the Netherlands is investigating which clays are most susceptible to shrinkage-swelling: marine clay, river clay, old Pleistocene and Tertiary clays?

..the lowering of the groundwater level during periods of drought to a long way below the clay layer in place would seem to play an important role?

..as climatological drought becomes more common, the consequences of shrinkage and swell will be exacerbated, impacting our homes, our heritage (listed buildings) and possibly our road and dike networks?